Lemon Vinaigrette Whitefish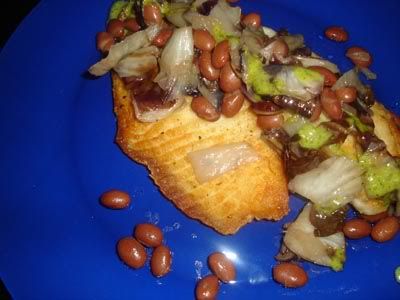 Last night I made a fish dish from Giada show, Everyday Italian – Tilapia, covered with white beans, mixed with radicchio and fish broth, lemon vinaigrette drizzeled over tilapia.
Clothing that is fresh lemon juice, Italian parsley, garlic, lemon zest, olive oil extra virgin crumbs, salt and pepper – just the finishing touch.
Tilapia fish was tasty and beans Cannelin flaky.The, soft and melted in my mouth.
All this dish was almost perfect.Well.
Radicchio bitter.Is bitter.Very tested as the shape of the chicory is supposed tasteor spoiled? Yuck!
I liked the dish and tried to again.This time, I used another type of grain (I forget which) because I had not cannellini available.Unfortunately radicchio.Again same problem with a bitter taste – so bitter that it was inedible.I trying the recipe, but I will not use radicchio. He does not like official.I radicchio.
Paz
Lemon Vinaigrette Whitefish
8 tablespoons extra virgin olive oil 3 shallots, thinly sliced ​​1 large head radicchio (about 12 ounces), coarsely chopped 1 (15 ounce) can drained and rinsed beans Cannelin 1 / 3 cup fish broth Salt and freshly ground black pepper 6 (5-6 oz) fillets of white fish such as tilapia flour, dredging equipment with lemon vinaigrette, recipe follows
Heat 2 tablespoons oil in a skillet over medium heat. Add the shallots and saute until tender, about 2 minutes. Add the radicchio and saute until soft, about 5 minutes. Add beans and broth and cook until beans are heated through, stirring frequently, about 5 minutes. Season the chicory mixture to taste with salt and pepper.
Meanwhile, heat three tablespoons of oil in a 14-inch (or 2 smaller) nonstick skillet over medium-high heat. Sprinkle fillets with salt and pepper. Dredge fillets in flour to cover completely. Shake off excess flour and fry 3 fillets in each skillet until well browned and cooked just through, about 3 minutes per side.
Pour over radicchio center plates. Top with steaks. Drizzle the vinaigrette over and serve immediately.
Lemon Vinaigrette: 1 / 4 cup lemon juice 1 / 4 cup lightly packed fresh parsley leaves 2 cloves garlic, Italian 2 teaspoons finely grated lemon 1 / 2 teaspoon salt 1 / 4 teaspoon freshly ground black pepper 1 / 3 cup extra virgin olive oil Mix the lemon juice, parsley, garlic, lemon zest, salt and pepper in blender. When the machine running, gradually blend oil. Season the salad dressing, to taste, plus salt and pepper.